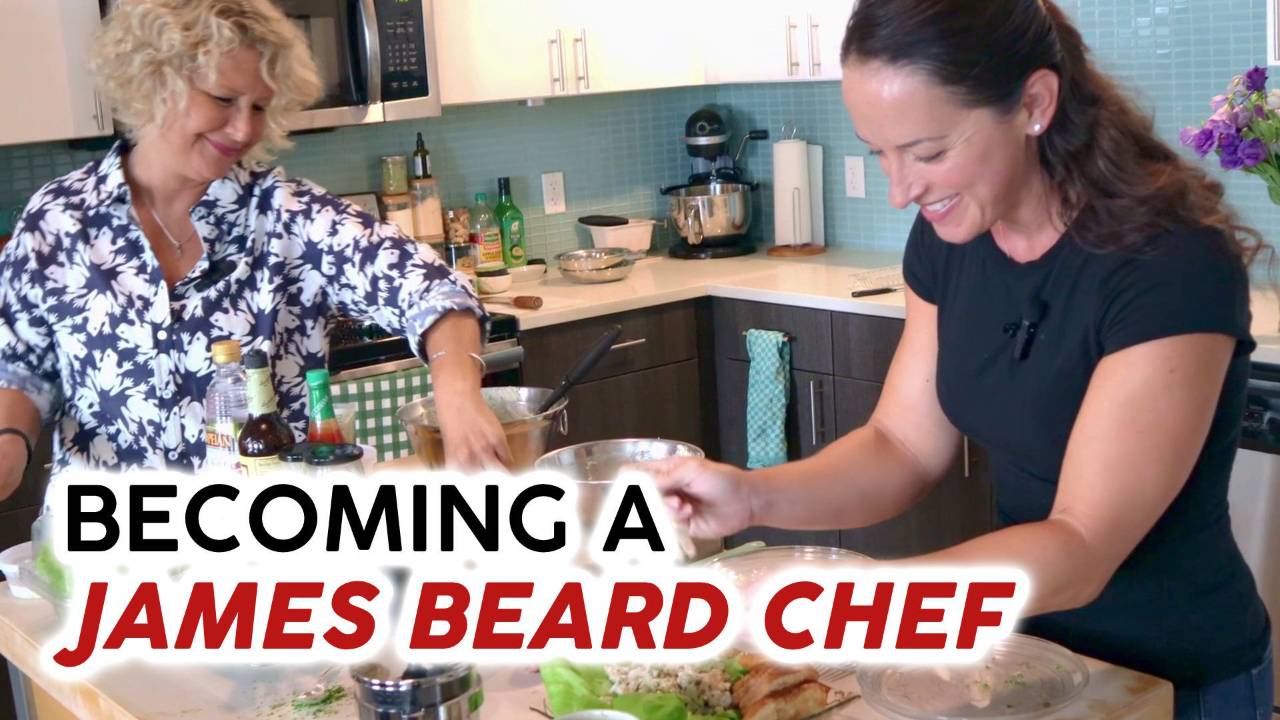 Pride, Patience, & Perseverance: The Inspiring Story & Recipes of James Beard Chef Anne Kearney
Oct 02, 2023
In this exclusive video, join me in the kitchen as James Beard Chef Anne Kearney takes us through the creation of two mouthwatering recipes that are sure to delight your taste buds right in the comfort of her home kitchen.
But this video is more than just a cooking demonstration – it's an inspiring story of resilience, determination, and passion. Chef Anne Kearney opens up about her remarkable journey into the culinary world, sharing the challenges she overcame and the lessons she learned along the way. From her early struggles to her triumphant achievements, her story is a testament to the power of patience and perseverance.
Chef Anne not only guides us through the steps of crafting two delectable dishes but also imparts invaluable culinary tips and tricks that she has honed throughout her incredible career. Her culinary expertise shines through as she creates magic right before your eyes. She shows us her own exclusive recipe that was featured in Southern Living for a delicious Crab Ravigote and her quick and healthy recipe for a raw vegetable salad that is the perfect healthy side dish packed full of nutrients and flavor.
Furthermore, Chef Anne shares her experience of working alongside the legendary Chef Emeril Lagasse, giving us a glimpse into the world of top-tier culinary artistry. Her journey is an embodiment of passion, pride, and the unwavering spirit to pursue one's dreams. Chef Anne Kearney is the owner of Oak and Ola here in Tampa, FL. She also has owned two other incredible restaurants: Rue Domaine in her hometown of Dayton, Ohio and Peristyle in New Orleans, LA. Chef Anne is one of the first female chef's to ever be featured on the cover of Wine Spectator Magazine and has been named best James Beard Chef of the Southeast along with numerous James Beard nominations.
Whether you're an aspiring chef, a food enthusiast, or someone looking for a dose of inspiration, this video is a must-watch. Discover the flavors, savor the stories, and take away Chef Anne Kearney's timeless advice that she would lovingly tell her younger self.
The first recipe she shares with us is her Raw Vegetable Salad this is directly from Chef Anne's Personal Recipe Book:
Raw vegetable salad:
Yield: nearly 10 cups of goodness
2.5 cups medium diced English cucumber, peel first!
1.5 cups s-medium diced bell peppers
1.5 cups uber thin sliced radish
4 cups thin sliced cauliflower
1 Tbsps. fine diced shallots
2tsps. EVOO - extra virgin olive oil
As needed, added right before you enjoy.
Vinegar – I prefer champagne or red wine vinegar.
EXOO – just a drizzle
Salt and Ground black pepper
As I individually cut each vegetable, I add it to a large mixing bowl. Once all the vegetables are added I drizzle over a minimal amount of EVOO. Then toss to distribute the oil all over the vegetables. Transfer to an airtight container and refrigerate until I am ready to dine.
The oil will seal in the freshness of the vegetables as you dine throughout the week.
Daily, as I gather my goods for my meals, I grab a portion of this crisp salad. Shake on a little vinegar (I prefer Champagne or white wine vinegar), drizzle of Spanish EVOO, salt and black pepper into my portion, stir/shake it up and then dig in.
Eat this by itself or enjoy with a grilled piece of salmon, chicken breast or even a crumbled hard-boiled egg and goat cheese. YUM!!
The second recipe she shows us how to make is Creole Ravigote which she says plays into her love for New Orleans flare!
Creole Ravigote:
Yields: generous 2 cups
1 cup mayonnaise
2 Tbsps. prepared horseradish
2 Tbsps. whole grain mustard
½ tsp. Crystal hot sauce
½ tsp. Worcestershire sauce
1 lemon, juiced
2 tsp red wine vinegar
2 Tbsps. chopped capers
2 Tbsps. fine diced shallot
1 tsp. finely chopped garlic
2 Tbsps. finely chopped flat leaf parsley
Jumbo Lump Blue Crab Meat
Sea salt and black pepper to taste
In a medium bowl, combine mayonnaise, horseradish, mustard,
hot sauce, Worcestershire sauce, lemon juice, and red wine
vinegar, whisk together until thoroughly combined.
Fold in capers, shallots, garlic, parsley, and season with salt and pepper.
Taste and adjust as needed. Store in fridge until needed.
Gently mix 4-6 Tbsps. into 1# lump/jumbo lump Blue crabmeat and serve atop fresh greens. I personally enjoy eating this on top of a golden toasted crouton. YUM!!
Serve the remainder of the sauce through the week with any lean protein to bump up the flavor and personality…Boiled shrimp, chilled steamed scallops, flaked white fish, or dolloped atop a piece of grilled fish (salmon is speaking to me ). If you've got a little leftover pulled chicken form a rotisserie chicken dress it lightly with this sauce and enjoy a unique flare on chicken salad…through in a bit of cooked, chilled pasta and make it a quick summertime meal. You've got loads of options.
I hope you enjoy this very special interview with Chef Anne Kearney. Be sure to share this incredible interview and these delicious recipes with your friends and family!
CHEF BOOKS & PRODUCTS FOR YOUR KITCHEN MENTIONED IN INTERVIEW:
-Japanese Stainless Steel Chef Knife Set: https://amzn.to/3YQGt8g
-Misono Chef Knife: https://amzn.to/3YS4VWT
-Chef Butcher Block: https://amzn.to/3KYawVX
-The Cooking of Southwest France: https://amzn.to/47PXDHi
-Pepper Cannon Professional Pepper Grinder: https://amzn.to/44l0Z1W
-Gastronomy of Italy: https://amzn.to/45pCOkk
Get my free newsletter with the latest podcast episodes, tools and promotions to help you live your best life!
Join our mailing list to receive the latest news and updates from me.
Don't worry, your information will not be shared.
We hate SPAM. We will never sell your information, for any reason.